WE'D LOVE TO HAVE YOUR BIRTHDAY CHILD ENJOY AN AWESOME WHOA! EXPERIENCE

$39 per Child Includes:
•Our Live current running show; typically 40– 50 minutes duration and suitable for all ages
• Meet and Greet and Photo session with cast
•All day access to the Urban Playground
•A Kids Meal at The Grounds restaurant (Birthday Banquet).


To book this package, we require a minimum of 8 children and 1 adult to attend. For more details on our Lunch & Show Package and to book, keep reading below.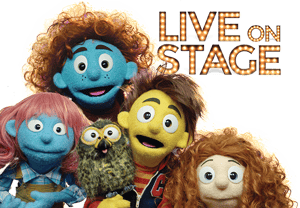 Enjoy a WHOA! SHOW
Typically 40-50 minutes in duration, our Live Shows feature music, puppetry, and comedy making sure there is something for everyone to enjoy. For details on our current show, click here.Our shows change 3-4 times per year and are a fun for all ages. We specialise in audience interaction, keeping kids entranced, dancing, singing or clapping along for the duration of the show. Often big kids enjoy the shows just as much (or even more) than the little kids.
Our cast and crew love making kids feel special on their big day, giving a shout out during the show and having an interaction after the show that'll make the day truly memorable.
For your child's special day, these tickets are just $20 for adults. For Health and Safety reasons, at least one adult must attend the show with the children. However, not all parents will want to, or have to, watch the show.
A KIDS MEAL AT THE GROUNDS
KIDS BIRTHDAY BANQUET
The restaurant at Whoa! Studios – The Grounds, by Ben Bayly, produces wholesome, healthy and fresh food daily. We want your birthday memories to include healthy entertainment, play and food experiences. The food is served in a banquet style in the middle of the table for the children to pick and choose what they would like. You can find our menu above. Please note that all Set Menus are subject to change at any time. We regularly adapt our menus based on the vegetables/fruit in season. If you would like us to send you the most up to date menu, please mention this in your booking. Our restaurant is extremely busy during peak times and offering the best value food packages from the menu will ensure your experience will be fitting for your special day. This Set Menu is $19.50 per child.
PRICING incl GST
Children's Birthday Package: $39.00 per child
Adult Live Show: $20.00 per person
Additional Kid's Lunch: $19.50 per child
Adult's Lunch: $0-45.00 per adult
Grounds Created Cake: $60.00
Bring your own cake: $20.00
Please Note All food costs are to be paid to The Grounds on the day of the party. BOOK NOW
Book Now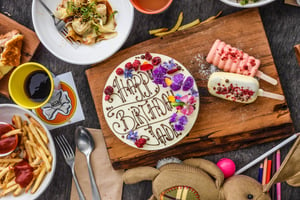 BOOKING PROCESS
Once you have read our Lunch & Show Package, our Birthday Terms & Conditions and have your estimated maximum numbers of adults and children please fill in the booking form below.
We will check availability for your preferred date. Once your booking is confirmed, you will be contacted to confirm final numbers and pay for your show tickets via credit card over the phone. This is a non-refundable deposit and will secure your overall booking. Payment for your food bill on the day can be made at The Grounds restaurant after dining. This way you can add any additional food items and this will be charged with your final food package bill. If you have any questions regarding our package, please take a look at our Frequently Asked Questions.